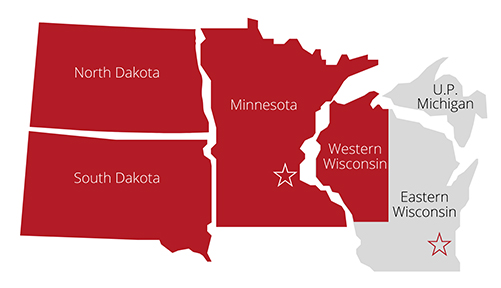 Traditional Values | Built over 50 Years
Mlazgar and Elan have merged to become one of the largest lighting and controls agencies in the Midwest; creating a new era for Mlazgar Associates. For over 50 years, we have been a stalwart of stability with core values of trustworthiness, dedication, humility, reliability, and adaptability. We believe in creating win-win relationships with our customers.
Agile Approach | Built Daily
Our associates have the autonomy to do what is right for our customers. With our rapidly changing world we endeavor to be adaptable, creative, flexible, and open-minded. Our team is eager to help solve problems with you.
Unmatched Resources | Built for the Future
From our forward-looking and evolving educational programs and web resources to our dedicated associates and unmatched product offering, we help you look to the future. Let our strength and skills be an asset for you.
Traditional Values | Agile Approach | Unmatched Resources
Humbly serving customers with integrity, trustworthiness and dedication in Minnesota, Wisconsin, North Dakota, South Dakota, and Michigan's Upper Peninsula.
Please enable JavaScript for Full Website Functionality